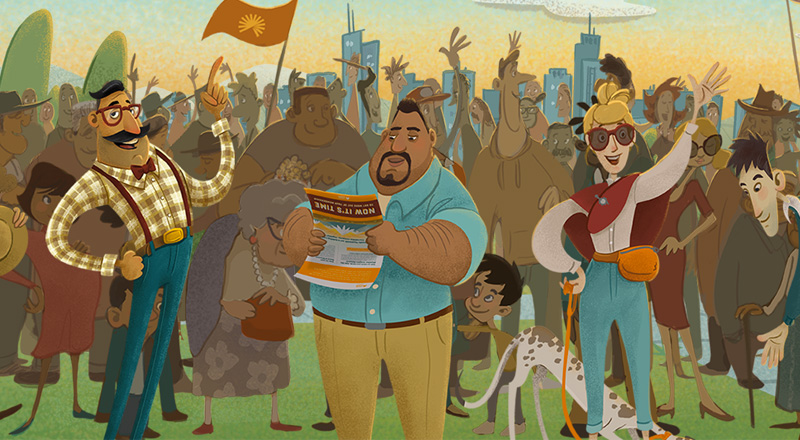 Many of the in-house marketing creative teams I meet are relegated to "production work" tasks to retool internal communications to be "on brand". There are real creative challenges facing these teams. Once the brand strategy and beautiful ad campaigns are delivered to fulfill the major media buys, the creative routinely takes a nosedive.
Too often, the agency partner can't provide usable assets for marketing production work. But all those creative campaign assets need to be repurposed, often for a season or an entire year. The assets need to be shared across multiple channels and in dozens of shapes and sizes for local advertising and communications.
We've taken steps to create brand stories and ad campaigns with transition plans and tools that facilitate bringing it all in-house. This process has become an important part of Dojo Agency's core value proposition for small and mid-sized organizations. In this case, client's want to pull things in-house as fast as possible to find significant savings.
Here are seven steps we take to deliver concepts that are customizable and versatile for many types of layouts. In this case study, our client was a community-based organization based in Denver, Colorado.
STEP 1: Define the hero for brand assets. The hero refers to your brand strategy and marketing plans. Is the hero the customer, the new product, the brand, the organization? There are overall brand promises made to the audience, and we must deliver on this promise. Often I like to begin by studying brand pillars along with the audience. We need to fulfill needs for all the internal departments' requests.
Focus on the hero helps ensure we have a single clear intention. For this case sample, our hero was the community. People had strong sense of belonging to a membership. The brand idea was to showcase the value in being part of a cause worth joining. So we needed to share a strong sense of community. This community message needed to be shared across Colorado, so needed to cover urban and rural demographics, for a wide product mix provided to different ages.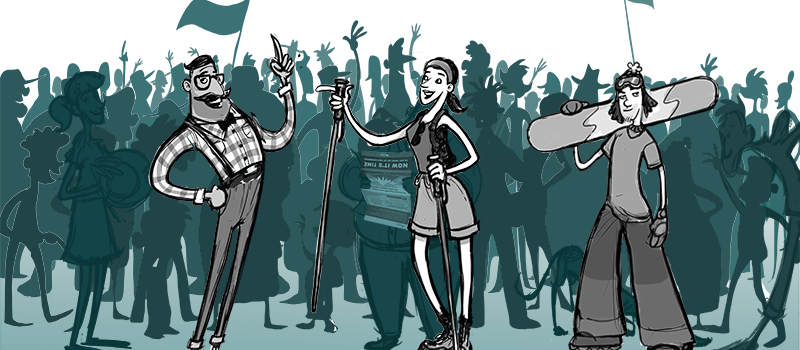 STEP 2: Create the primary characters. Your primary characters will be your brand ambassadors, with backstories, motivations and user-experience expectations to be explored. Primary characters needn't be people, nor cartoon illustrations. But there is great flexibility and affordability to be found in illustrations. With a full set of characters, you have added versatility and shelf-life, for use across products, services, and departments.
As your brand ambassadors, the primary characters must be great and usable. A successful, classic approach is to separate emotional and rational drivers, then attach the relevant brand driver to a character. Primary characters help set the look and feel that will dictate much of the final creative vision.

STEP 3: Design the supporting elements. Supporting elements may take many shapes based on the brand and campaign strategy. In this example, supporting elements included additional layers of community members. Often props for each of the primary characters are included. These supporting elements connect the characters and put context to their motivations.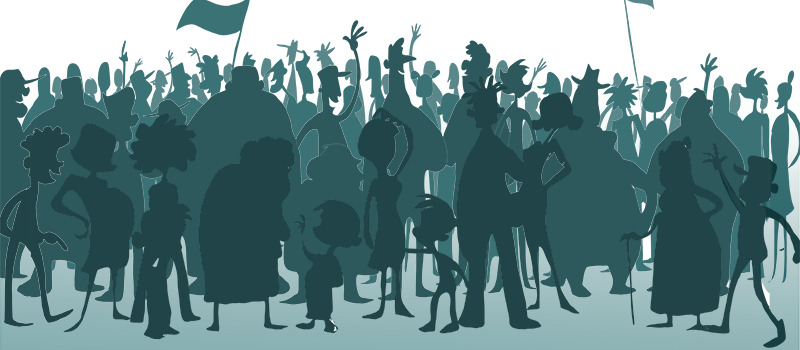 STEP 4: Build layered stories and layered files. Layering the campaign assets is vital for delivering a versatile story world. We need primary characters in different poses, in different scenarios, sharing new offers and messages. Layers include backgrounds and textures. We need enough "legs" to carry us through all marketing's tactical needs to engage, educate and convert for sales. In this case, our layer backgrounds included mountains, cityscape and park settings.



STEP 5: Map all the "real" marketing formats. We attempt to think through all the needs of the various departments, including marketing, sales, PR, human resources, customer service, engineering, and so on. Horizontal and vertical layouts. Full-bleed and no bleed versions. Versions for black and white. What happens when we replace a headline, body text, or call to action? Create all the assets in all the obvious sizes, for instance header images for the major social channels.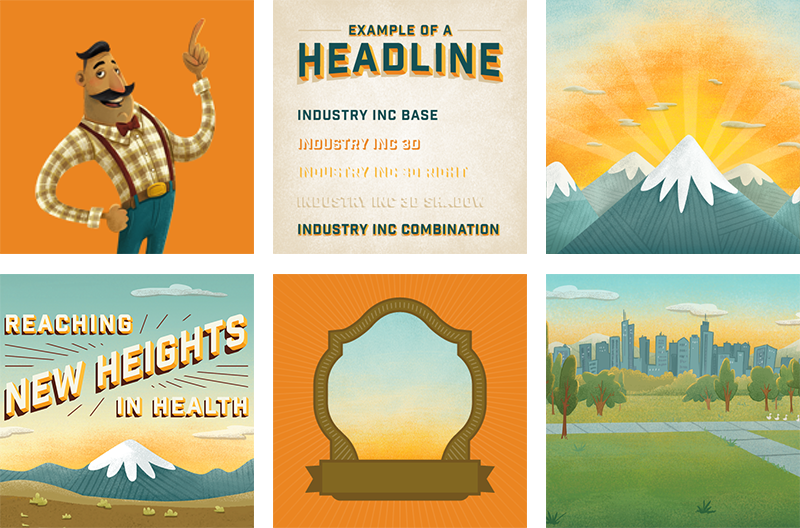 STEP 6: Deliver all assets and a user manual in an awesome kit. We provide clean, core Adobe® Photoshop and Illustrator files, expertly layered and labeled for your internal design team. There are horizontal and vertical formats. In addition, we produce a guidebook with clear instructions, including screencast video tutorials. Our marketing kits are invariably a hit with in-house creative teams. These are set files as tools, so any production artist can dive in and complete all the various departments' requests. Simply add or delete layers, include your headline and text to complete a new layout.
STEP 7: Evolve with incoming data. Once we handover all the creative assets, the internal teams are ready to race forward without agency supervision or support. But there are always questions on how to maximize the investment into these assets, especially in larger organizations with shifting marketing landscapes. Rather than jettisoning the creative work at the end of the campaign, for instance, we believe in repurposing. See what works and keep these elements active. There is always room for feedback and improvement.
This approach has helped us create amazing, simple, flexible brand assets and ad campaigns for our clients. The in-house teams we connect with applaud our approach. It proves that stellar creative concepts can extend through all the production needs of the entire organization.