Core Story: Colorado HealthOP

A Core Story provides the cohesive narrative needed to leverage brand and maximize marketing. The deliverables, like the samples below, include a customized, modular tool kit for brand communications and marketing campaigns. Here is a case study on the Core Story developed for Colorado HealthOP in 2015. This includes our tested, 3-phase process to establish a successful Core Story, with sample download documents we use along the way.
Establishing The Stuff of Legend
We created Stuff of Legend, a successful Core Story that supported the entire organization. Colorado HealthOP was on an amazing mission to help transform health care throughout the Centennial State. Believe It — a nonprofit health insurance group with 80,000 members attracted to a no-surprises philosophy. The CO-OP was established in 2012 through a $72 million line of credit under the Affordable Care Act.
After the launch year, they smartly invested in brand messaging, communications strategy and Core Story development with Dojo to compete in a busy marketplace. Dojo Core Story included 50-pages prepared in shareable guidelines for marketing partners and the in-house team.
---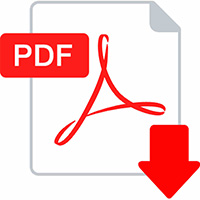 Download Colorado HealthOP's Cory Story Guidelines — 50-pages (5MB)
---
Working with the team at Dojo was easy, fun and productive. They started by understanding our company culture and vision then used a set of structured brainstorming sessions to breath new life into our brand. The end result was not just a set of pretty pictures but a malleable brand persona that tied our entire communication strategy together. This allowed us to connect with our membership in authentic and interesting new ways. It was one of the best investments we made! And, Dojo's work made me happy about and proud of our company. I still smile every time I see a Planimal. It's true! Awesome, creative real results.
— Julia Hutchins, (former) CEO, Colorado HealthOP
Phase 1 — Uncover Stories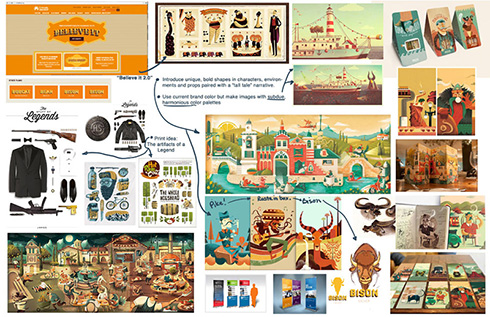 We uncover authentic stories that will work for audiences and the marketplace. This process is highly customized to each client. There are usually marketing plans in place that must be considered. In this case study, we needed to work from an existing campaign umbrella called "Believe It."
Mood boards like this one helped showcase our development from their previous campaign, to map a new direction. The best campaigns require strategic legs that can support the entire organization from sales to service. This project also needed a campaign with legs. Phase I is about research. We audit communications and the industry. For more details on our creative process, check out our strategic approach in this portfolio piece»
By the end of Phase I, we deliver a Core Story document that resonates with stakeholders and target audiences. Our approved direction on this campaign was named Stuff of Legend to follow Colorado lore and legends, seemingly tall tales, with stories that became true. This was not unlike the idea of nonprofit health insurance. One fantastic such tale we uncovered was connected to Pike's Peak. We established "Reaching New Heights" headlines along with the "Believe It" stamp of approval.
Phase 2 — Create Story Assets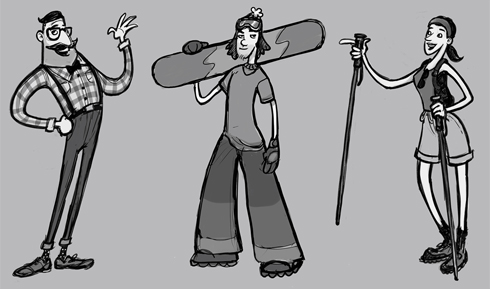 During the Create Phase of Core Story development, Dojo builds highly customized brand and campaign elements. Each story is unique based on the target audience's sense of authenticity and the relatable marketing strategy.
In this campaign, we showcased remarkable stories about legendary Coloradans and their impact using whimsical illustrations and direct messaging. The affect was approachable but layered with textures, and engaging with big-character personalities. More samples of these characters are below.
We built an entire community set of 15 characters. The deliverables included one pose for each character. It was important to update the character sets for modern folks of Denver who were potential customers. We delivered a modernized character set showcasing cultural competency, with settings, backdrops, and tools that the internal marketing team could easily access and use. This popular post in our blog outlines the creative steps taken on this campaign to create simple flexible brand assets.
The CO-OP's fun approach to insurance language and the names of their insurance plans, which were Bear, Bobcat, Bison and Bighorn led us to extend the character set to include plan-name animals, that came to be called the Planimals. In doing so, we had the tools needed to speak more directly to target audiences with consistent, unique, messaging.
By the end of Phase II, clients can access core assets, available as Adobe art files online in Google share folders. We stay on track with consistent, proactive communications. Here is a sample of a few of our simple, effective documentation we use for account and project management.
---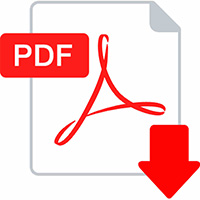 Download sample project tracker, timeline and character target list
---
Phase 3 — Share Marketing Communications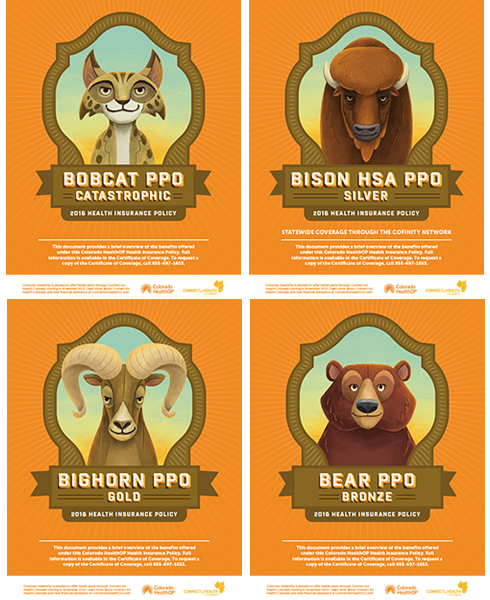 In this third phase we deliver assets for use across the marketing mix. We provide clean, core art files, templates and guidelines so that your internal design team can recreate numerous versions. We help ensure your internal team and future marketing partners can easily build and manage creative work for all channels.
For Colorado HealthOP, their bold, direct, textured imagery worked to stand out among the standard health insurance industry's stock photos. As a result, they attracted more brokers, businesses and group coverage. Insurance brokers and business owners appreciated the fresh approach, which led to a simplified process to quote and enroll. The campaign and its straight, value-based messaging worked especially well as it aligned with other mission-based nonprofit organizations.
Following Phase 3, Dojo stayed on board to support the CO-OP for highly visible projects, like this Annual Report as an Infographic» Scroll below for additional samples from the campaigns we developed together.